Yoga Kitchen – Simple, healthy, compassionate, vegan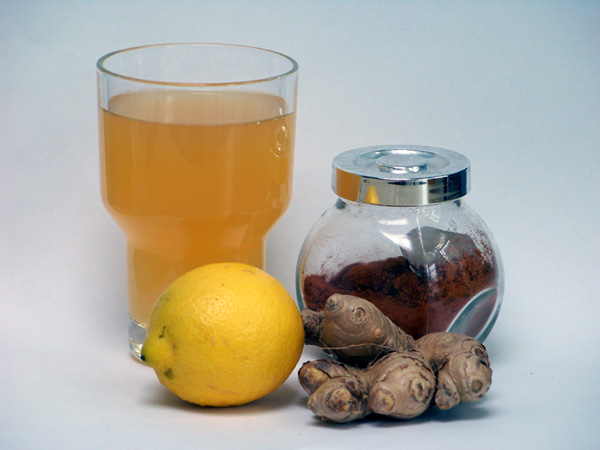 Boost your inner fire
You have these days in the cold season where you seem to remain cold, no matter how high you turn the knob of your heating's thermostat control. Our metabolism and our inner fire, also named agni in the Indian tradition are low and weak.
Moving your body can help to stimulate your circulation and digestive fire. A Yang type of yoga, for instance, or some classic sports or jogging. Not always easy in the winter season, which rather invites us to stay inside and get more rest than average.
Your nutrition can also help to ignite your inner fire. By using heating spices in your meals, such as ginger, cinnamon, pepper, cayenne pepper or chili.
With the following drink you will get quickly hot. The lemon and ginger will help to get rid of colds and flus.
What you need for 1 liter:
1 liter of apple juice or apple pear juice, preferably organic
the juice of one lemon, preferably organic
a good piece of fresh ginger, about 6 cm long
a point of a knife of cayenne pepper
Peel and cut the ginger in small pieces.
Put the ginger and the apple juice together in a large enough pan.
Bring the juice to a boil and let simmer for 5 up to 10 minutes, or even longer.
Mix the lemon juice in when you approach the end of the cooking time and add the cayenne pepper.
You can pour the hot drink in a thermos and carry it with you to work or school as a healthy alternative for tea or coffee in the cold season.
Drink the heat booster as hot as possible and feel how your inner cold melts away like snow in the sun.
Enjoy!
Simple recipes with few natural ingredients are better value than chemical rubbish in your pharmacy closet.