Yoga Kitchen – Simple, healthy, compassionate, vegan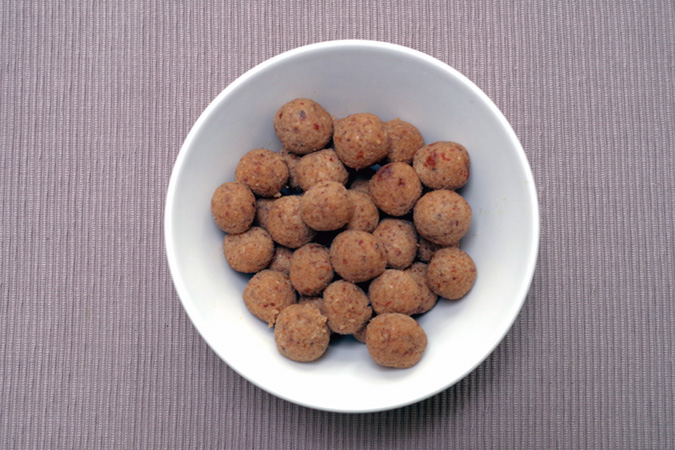 A healthy treat that makes up for a good dose of good fats and plant proteins!
This easy recipe allows you to have that fixed in no time. The result looks a bit like marzipan, but in a lot healthier version. Traditional marzipan is a genuine sugar bomb, made of ground almonds and (most often) refined white sugar, in a proportion of almost 50/50, depending on the quality of the preparation.
This version here is entirely free of added sugar.
If you cannot get the type of nuts as described in the ingredients, you are welcome to use whatever other kind of nuts instead. The proportions and amounts in the recipe are a relative indication and do not require too much precision. Instead of the typical Belgian "speculoos" spice mixture, you may as well use other spices. Let this recipe be rather an invitation to be creative and to experiment!
What you need for about twenty little spheres:
70 grs of walnuts
50 grs of Brazil nuts
30 grs of rolled oats
5 to 6 dates, stones removed and cut into pieces
A pinch of sea salt
Half a teaspoon of a "speculoos" spice mixture, according to your taste
Dates are most often sold dried. Remove the stone and cut the dates into pieces. Let them soak for three hours or so in water. Make sure the water level is such that the dates are not covered completely. The syrupy soaking water can be used as a sweetener for other preparations.
It's a good thing to soak the walnuts overnight. Discard the dark and bitter soaking liquid and rinse the nuts well.
Brazil nuts, however, do not have to be soaked before use.
Bring all ingredients in a kitchen robot with an S-shaped knife. Grind de mixture untill you see that the crumbs start to become sticky and agglomerate. This can take a couple of minutes and it's possible that you'll have to stop from time to time to scrape the mixture off the walls of the jar to bring it back in touch with the knife. Choose how finely you want to grind.
Next, roll the nut dough into small spheres with your hands, and display them in a little bowl or on a plate.
These little balls can be stored in the fridge in a closed container for 10 up to 14 days.
Enjoy!
Dates allow us to sweeten dishes or preparations in a relatively cheap way. Most dates that one will find in the shops here in Belgium are dried dates from North-Africa or Turkey, of the Deglet Nour type. In the stores of the North-African merchants they are often sold "branched", meaning that they are still attached to the branches of the tree. These dates are quite tough and well dried and it's a good thing to soak them in water before use.
Better quality dates of the Medjoul type are thicker, juicier, tastier, and a bit more expensive. Soaking is not necessary.
And finally, in organic grocery stores you may also find the wonderful, almost fresh Mazafati-dates from Iran. They're simply the best! Soaking is not necessary either.
In any case, I'd suggest you don't use the high gloss dates from the supermarkets that are covered with a layer of glucose syrup. Glucose syrup is an ultra rapid kind of sugar that shouldn't have its place in a healthy kitchen.