Yoga Kitchen – The Studio
Where to find Yoga Kitchen?
The yoga classes and workshops take place at Yoga Kitchen, De Lochtstraat 42, rue De Locht, in 1030 Schaarbeek on the ground floor. In the cosy studio, part of an old mansion, there's space for maximum 8 to 10 participants.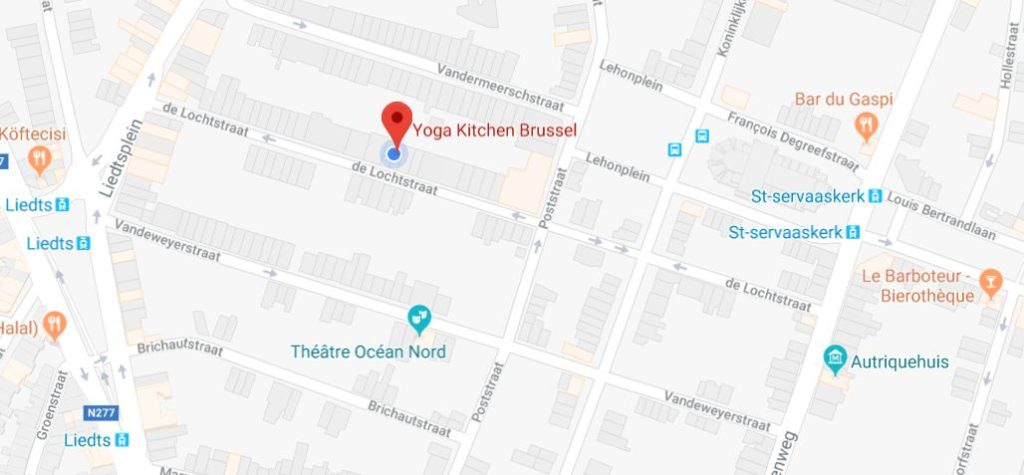 How to reach Yoga Kitchen?
Parking your car may be difficult in this area.
Therefore, prefer to come by foot, by bike or by public transport. Yoga Kitchen is very well served by public transport!:
Tramways STIB: Trams 25, 55, 62, 93, 94 stop Liedts, Tram 92 stop Sint-Servaas/Saint-Servais.
Buses De Lijn: Bus 270, 272 stop Lehon.
Villo! Bike stations: Liedtsplein/place Liedts (139) and Haachtsesteenweg/chaussée de Haecht (147)
Trains: The Brussels North station is close, only 7 minutes walk to the studio.
If you do come by car, please foresee some extra time to spot a parking for your car. You may have the most chances along the Louis Bertrandlaan/avenue Louis Bertrand towards the Josaphat park. A brand new covered parking has recently opened nearby, between the Brabantstraat/rue de Brabant and the Aarschotstraat/rue d'Aerschot, near Brussels North Station.
Do you feel like booking one of our classes?
Please use the links below to have a look at our offer and to book: