There you go. I left on August 3, 2020 for eight weeks.
Not on vacation! But still on a voyage of discovery. I made a commitment to an 8-week fat-loss challenge.
Now you might want to take a look at the attached photo that looks like a robot photo of someone condemned to jail for a decade. And then you might think, "That's not so bad, is it, that fat?
Attaining results
The truth is, for over a decade, I've been thinking I'm eating totally healthy. And apart from that, I'm mildly to moderately physically active. The lack of periods of illness and doctor's visits (none!) the last 7 years, point to say I am in the right direction.
If I wouldn't do anything at all for my dear body, I would become "skinny fat",. I call it myself: a fat skeleton. Not so much meat on the bones and the tendency to accumulate fat deposits in all the classic body areas. I do like physical activity, I've practiced sports for years, but only following a very irregular pattern.
I am one of those persons who eagerly longs for visible results with sport, but never manages to obtain real results.
And so I made the wise decision to descend from the realm of fantasy and supposition to the world of objectively measurable reality. The figures, measurement results and progress tables of the challenge bring me straight to the tangible experience, of what it means to work systematically and with great consistency towards a result.
Photographs are part of this. The classic "before" and "after" selfies. Because the image the photo shows provides more objective information than your own glance at yourself in a mirror. Because you view and judge yourself, depending on the mental filters through which you look, often too positively or too negatively.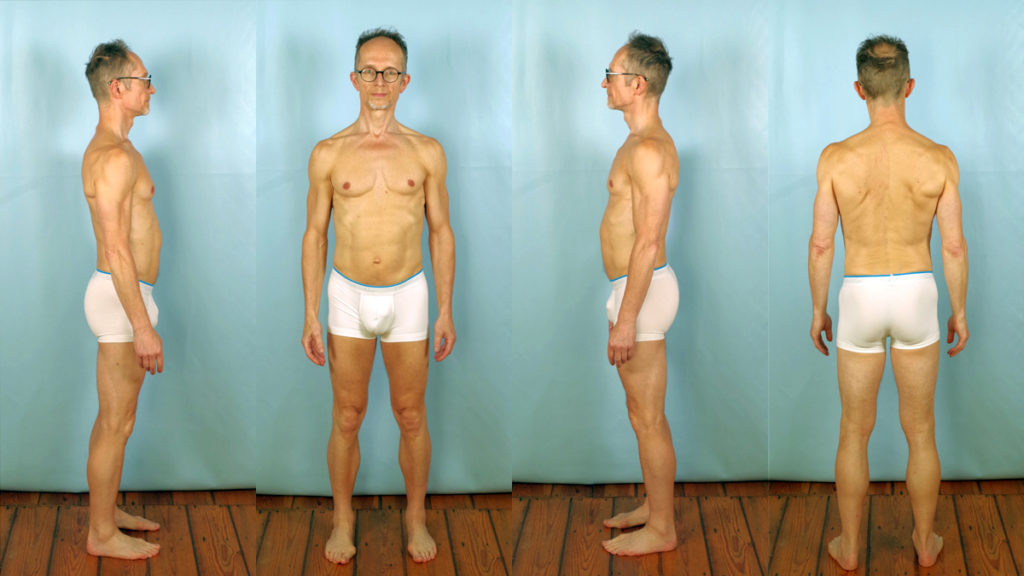 An objective view
Those pictures also help me to accept myself. There I am, a person of 58 years old in underwear, with all the dents and flaws and imperfections that belong to that body. I see things that I can't change much. Like that spine, which is very assymetric. Or those deformed feet. I also see things I can handle. Like the fact that my legs can be a lot more muscular, or the back of my body that is clearly less muscular than the front side of it.
We'll get to work on that.
Manifesting the best version of myself
These are some of the reasons for my participation to the challenge:
The motivations are:
I want to develop a strength training and maintain enough muscle tissue, good posture and mobility, now and in later life.
Less fat and more muscles, I find that aesthetically more beautiful. And it's healthier.
Create the best physical version of myself, depending on my genetics, history and age.
Develop the mental discipline by adhering as strictly as possible to a well thought-out, planned and achievable practice schedule for sports and nutrition.
Learn from my own personal experience how the interaction between eating and being physically active actually works out.
Experience what works and what doesn't for me in terms of nutrition
Get, once and for all, clarity about the protein story.
The challenges are:
To lose 500 grams of fat per week for 8 to 12 weeks
For 8 to 12 weeks, to track all the food I eat in a food tracking app
To do progressive strength training 4 days a week
To gain the know-how from this experience in order to sustainably maintain the result after the challenge.
No more guessing and supposing and fantasizing! I love my chaotic mind with its dominant right half, but that alone won't get me there.
Oh yes. Almost forgot to mention, I'm doing it all vegan !
How is your relation with your body and its health ?
Are you entirely satisfied ?
Would you like to know from time to time how it goes with the challenge and would you like to benefit from the useful experiences ? Subscribe to the newsletter or follow me on Facebook and Instagram.