Yoga Kitchen – Simple, healthy, and plant-based
Raw spicy carrot cake with nuts and coconut
Admittedly, this carrot cake does take some labour to pull off. However, the result more than pays off. This full raw and vegan carrot cake is full of healthy ingredients and tastes downright heavenly and very refined. With its warming spices and energy from the nuts, dates and root vegetables, this cake suits the autumn and winter season very well.
What ingredients do you need?
For the cake
2 medium-sized carrots, approx 190 g in total, grated
120 g almonds
80 g oatmeal
8 to 10 large medjoul or mazafati dates (about 130 g, pitted)
2 teaspoons of cinnamon powder
1 quarter teaspoon of ground nutmeg
1 quarter teaspoon ginger powder
a pinch of sea salt
70 g grated coconut
a generous splash of plant milk (up to about 100 ml)
optional: a teaspoon of vanilla extract
For the icing:
2 to 3 medjoul or mazafati dates
120 g cashew nuts
one tablespoon of sesame paste (tahini)
80 to 120 ml of vegetable milk
15 g walnuts or pecans
optional: a teaspoon of vanilla extract
This is how to make this delicious carrot cake
A few small preparations:
Soak the walnuts in cold water for a few hours or overnight
Drain them and rinse away the bitterness
Soak the cashews for 15 minutes or so in warm water, or an hour or two in cold water
Drain them and rinse briefly
Open the dates to pit them, then cut them into pieces and soak them in warm water for about 5-10 minutes
Drain the soaking water
Roast the almonds for about 15 minutes on a sheet of baking paper in a preheated oven at 160°C, stirring once halfway through
Grate the carrots finely
Prepare a sheet of baking paper at the bottom of a tray with raised edges of approx 20 cm x 20 cm
This is how to make the cake come true:
Place the carrots, almonds, spices and salt in a food processor fitted with an S-shaped blade and grind to a coarse mixture
Add the dates and grind further
Then add the grated coconut and continue to blend
Pause occasionally and scrape down what sticks to the sides of the food processor to get a homogeneous mixture
Add the vegan milk little by little to get a slightly moister and finer mixture
Pat the raw dough thus obtained onto the baking sheet in the tray, press it flat all around and smoothen
Then add the cashews, the three remaining dates, the sesame paste and the vegan milk into the cleaned bowl of the food processor and grind until you get a creamy consistency
Spoon the cream thus obtained onto the carrot cake in the tray and spread uniformly and smooth
Pulse the walnuts coarsely in the food processor and finally sprinkle them over the cream layer as a garnish
Your delicious carrot cake is ready. Put it away in the fridge for a few hours to become firmer.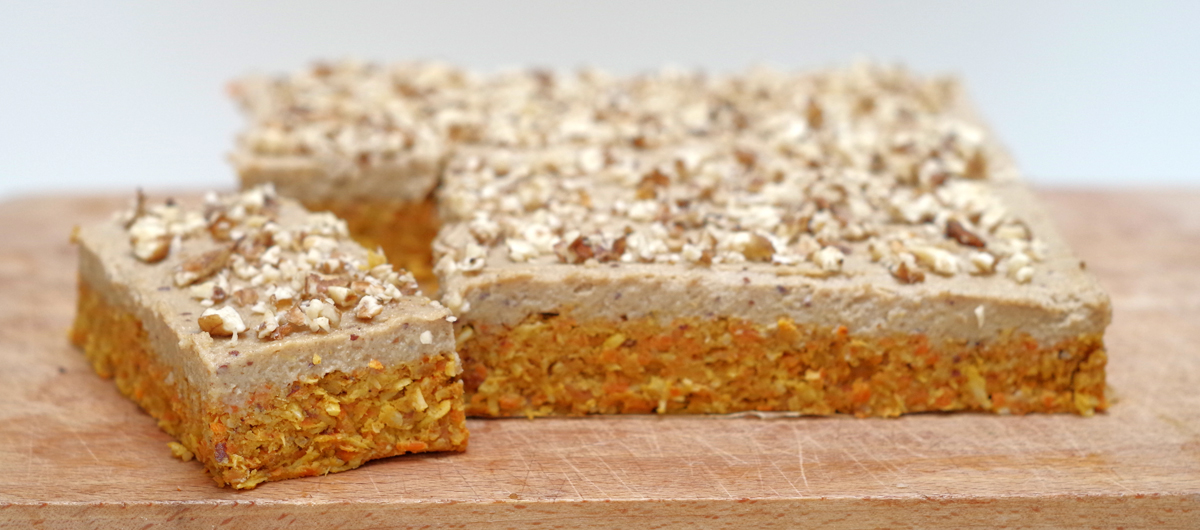 Some tips and experiences
Grinding the carrot cake dough is the trickiest job. But once that job is done, your cake is also pretty much done.
Toasting the almonds is not really necessary, but it results in a boost in flavour.
When toasting the almonds, keep a close eye on your oven. The almonds may turn a little light brown, but be careful not to burn them. After all, every oven is unique.
By placing a sheet of baking paper in the tray, you can easily lift the cake out of the mould afterwards to cut it up. You might as well make the cake in a round tray.
Due to the high nut and date content, this cake is very high in energy. A small piece per person is enough to make you feel satiated quickly.
This cake will easily keep for up to 4-5 days in the fridge in a sealed container.
Enjoy to the fullest!
Did you like this cake topper? Here is another recipe using carrots in a sweet-tasting dessert, without nuts.
What is the importance of nuts for health?
A small portion of nuts daily supports your health. Nuts generally contain healthy oils and also some plant proteins. The oil they contain does make them very high in energy. So consume nuts regularly, preferably daily, but in moderation.
Eating a portion of nuts daily is one of the recommendations from the "Daily Dozen". This is a set of twelve plant foods that have been objectively scientifically proven benefits to support a healthy and long life. The "Daily Dozen" were developed by US physician Dr Michael Greger. He has made spreading scientific information about healthy plant-based eating to his life's goal. Read about it in detail on his website www.nutritionfacts.org. This website is full of scientifically substantiated tips and information on how to eat 100% plant-based food in a healthy way. I highly recommend!
Participate in our cooking classes:
Read more about plant-based nutrition and health:
Read more about plant-based food
Find out about yoga and yoga classes in Schaerbeek:
Check out our yoga classes here: