Meet a real vegan protein champion
Tempeh is made from yellow soybeans. Mixing those beans with a fungus (Rhizopus oligisporus) and letting them ferment creates a kind of cohesive cake that is very nutritious and has a typical aroma of its own.
Tempeh is Indonesian in origin. Many people are not yet familiar with this plant-based super protein source. You can commonly find it in organic grocerry stores, organic supermarkets, in Asian supermarkets and I have found them a few times in regular supermarkets too.
In terms of texture, it is a perfect meat substitute, with a firm "bite". The dish below makes tempeh also enjoyable for people who are not so into Asian flavours. It is reminiscent of an autumn or winter hunting dish and could very well be served with cranberries, for instance.
What you need:
For 4 generous servings:
400 g tempeh
1 medium-sized onion
1 to 2 cloves of garlic (optional)
250 g Parisian mushrooms or other mushrooms, or a combination of both
one and a half to 2 tablespoons tamari (soy sauce) or sea salt to taste as you prefer
a generous tablespoon of almond paste
a generous tablespoon of sesame paste (tahini)
two teaspoons of cumin seeds
one teaspoon of thyme
black pepper, ground
a quarter teaspoon of ground nutmeg
a bunch of fresh parsley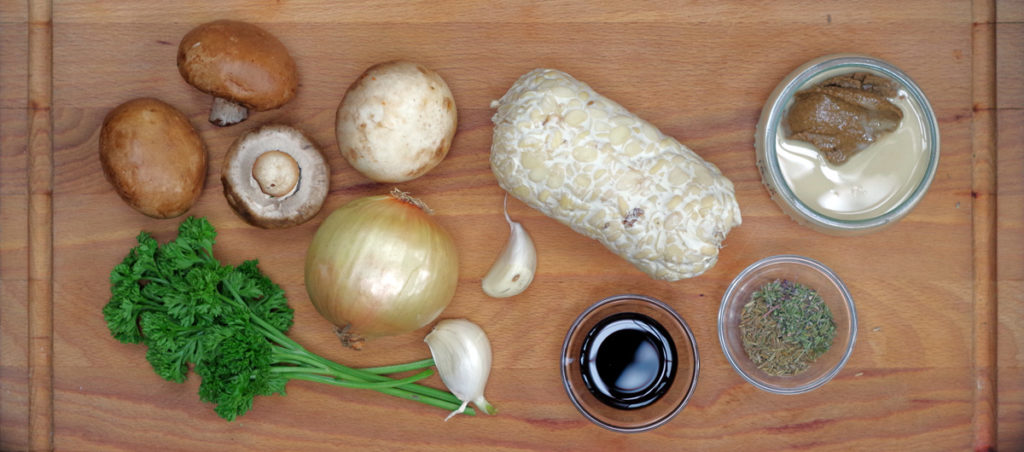 This is how you get it done:
Cut the tempeh into smaller pieces. If you are starting from the cylindrical tempeh stumps, you can, for example, cut them into discs, which you then quarter crosswise.
Chop the onion and garlic cloves.
Make the mushrooms clean and cut them into thin slices.
Finely chop or cut the fresh parsley.
Place the tempeh in a steamer basket over boiling water and steam for about 10 minutes(optional).
Then let the tempeh drain a little and cool.
In a wok or large pan, bring a little water to the boil and sprinkle in the cumin seeds and thyme. Allow to boil for a few moments. /li>
Add the onion and garlic to the herb broth and cook together until the onion becomes slightly translucent.
Add the tempeh pieces, stir and simmer together for about five minutes with the lid on the pan.
In the end, add the sliced mushrooms to the pan, stir well and let the mushrooms soften for about five minutes with the lid on.
Sprinkle with black pepper: about 5 to 8 brisk turns of the pepper grinder.
Next, add the ground nutmeg.
In the meantime, combine the almond paste, sesame paste and tamari in a bowl and pour some hot water over them (approx 200 ml).
Mix with a fork or a whisk until the mixture becomes homogeneous.
Pour the mixture into the pan with the tempeh and mushrooms and stir.
Turn off the heat and add the parsley. Stir to combine. Your tempeh with mushrooms is now ready.
You can serve the tempeh for example with a warm, steamed or roasted vegetable dish and some wholemeal rice or another grain. Raw vegetables or some fermented vegetables also go well with this tempeh dish.
Why steam tempeh beforehand?
According to some authors, steaming tempeh beforehand has the effect of opening up the structure of the tempeh a little, allowing the flavours of the sauce or marinade to penetrate more deeply. But it can also be done without.
Can you deep-fry tempeh to make it crispy?
.
Tempeh also lends itself very well to frying in oil, or even deep-frying. I personally am not a fan of that. I prefer softer cooking techniques. If I do want to add a line of oil, I would rather do it at the end. In this recipe, the tempeh is simply simmered along with the onion and vegetables. When you heat oil, do it gently so as not to exceed the maximum recommended temperature, which by the way is different for each oil.
Approximate nutritional values of tempeh per 100g product(*)
| Energy | Carbohydrates | Sugars | Fat | Sat. Fat | Protein | Fibre | Salt |
| --- | --- | --- | --- | --- | --- | --- | --- |
| 722 kJ/172 kcal | 0,8 g | 0,6 g | 9,9 g | 1,6 g | 16,9 g | No info | 0,1 g |
(*) Based on the values as mentioned on label of Belgian manufacturer De Hobbit