on 11/02/2022 | 7:00 pm - 8:00 pm
Yoga for the Back
Do you sometimes have back problems, a painful or weak back?
Do you feel that the quality of your life will improve if you improve the health of your back?
Do you want to work on that yourself?
Then this yoga class is tailor-made for you.
With focused mental presence, conscious breathing and appropriate postures and exercises to strengthen the back, you build a better health, more strength and flexibility.
For a better energy flow in the body and more peace of mind.
The postures and movements come from the rich yoga tradition and are supplemented with other suitable exercises.
Read more about Yoga for the Back
Book and pay for your online class
Pay for your class in full presence
Pay for your single class
Buy a 60 minutes multiple sessions Pass
Make a reservation for your class in full presence
Reservations and cancellations
Reservation is compulsory as the number of participants is limited.
Reservations are possible until 24 hrs before the session by e-mail, by filling out and sending the form below on this page.
In case of delay or cancellation, please let us know by sending a text message to 0486/882848
Do arrive in time for your class, five or ten minutes early so as to respect the class and the concentration of your fellow participants.
You can register by filling out and sending the form below. Following that, you will receive an e-mail that confirms your registration.
I register for Back Care Yoga Friday 2022, on 11/02/2022 | 7:00 pm - 8:00 pm in Yoga Kitchen

Location
Yoga Kitchen
De Lochtstraat 42, rue De Locht
1030 Schaarbeek/Schaerbeek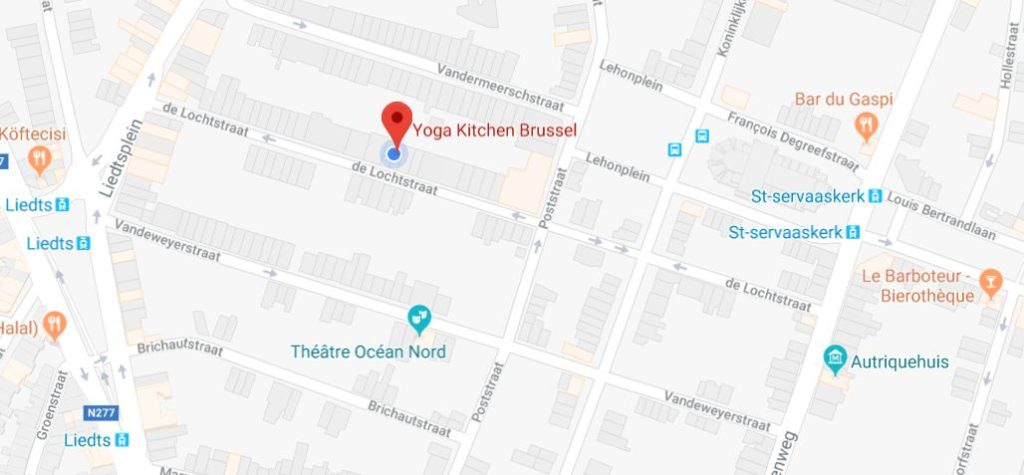 Click here to read more about the location and directions.
Yoga practical
Drinking:
It is very important to drink sufficient water after the class, because yoga practice has a detoxifying effect. However, avoid drinking during the class.
Food:
Avoid eating within two hours before the start of the class.
Towel:
It is a good idea to bring a towel. Useful if you tend to sweat a lot, and folded it can provide support in certain yoga postures.
Dress code:
Please choose clothing that is that is loose fitting and comfortable enough to wear without strain. Bring a pull-over or sweater to keep you warm during the final relaxation.
Medical conditions:
Always inform the teacher when you have a medical condition that necessitates extra prudence, or when you are hurt or are recovering from hurting yourself. With conditions such as a high blood pressure or glaucoma you better avoid the inverted postures.
We do our best to guarantee your safety. But please consider that you yourself are responsible for your well being and that you are the guardian of your own physical limits.
A private consult for yoga by appointment is possible to determine your personal profile. This consultation can help you amongst others to make the right choices for your yoga practice.
Read more about tailor made personal yoga coaching
About yoga mats:
Yogamats of superior quality are available in the studio.
However you can bring your own mat if you prefer.
Click here to read more about purchasing a yogamat.
Handies and smart phones will be switched off at the beginning of the class.