on 04/12/2022 | 2:00 pm - 4:00 pm
Nude Yoga for Men in Brussels
You can attend this workshop:
in full presence in the studio
Duration: 120 min.
Read more about Nude Yoga for Men
Pay for your workshop in full presence
Important: Please remember to also make a reservation in time for your class after purchase. You can make your reservation by filling out and sending the form below.
Make a reservation for your class in full presence
Reservations and cancellations
Reservation is compulsory as the number of participants in the studio is limited to maximum 8.
Reservations are possible until 48 hrs before the session by e-mail, by filling out and sending the form below on this page.
In case of delay or cancellation, please let us know by sending a text message to 0486/882848
Do arrive in time for your workshop, five or ten minutes early so as to respect the workshop and the engagement of your fellow participants.
You can register by filling out and sending the form below. Following that, you will receive an e-mail that confirms your registration.
I register for Nude Yoga for Men Autumn 2022, on 04/12/2022 | 2:00 pm - 4:00 pm in Yoga Kitchen

Location
Yoga Kitchen
De Lochtstraat 42, rue De Locht
1030 Schaarbeek/Schaerbeek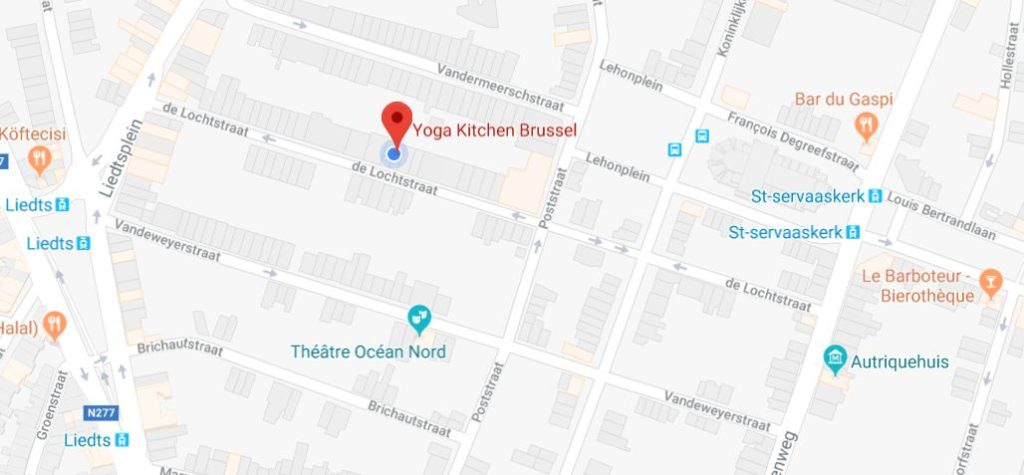 Click here to read more about the location and directions.
Your yoga workshop practical
Can I drink water during the yoga class?
It is important to drink enough water after class, because the yoga exercises also have a detoxifying effect. It is better not to drink during the workshop, or just some sips.
May I eat before the yoga class?
Avoid eating too heavily within two hours before class.
Should I bring anything specific to this workshop?
Bring the following:
A large bath towel
A blanket, plaid, pareo or a second towel to keep your body warm during the relaxation at the end of the session
There are top quality yoga mats available in the studio. You can bring your own mat if you prefer
Your good mood and positive energy
What about hygiene?
Hygiene is of course essential for this nude yoga workshop.
Make sure you are clean, take a shower before the workshop and also avoid the use of eau de toilette or perfumes.
The smell of these can be disturbing for other participants and it pollutes the air we breathe.
What clothes should I wear for yoga?
For this workshop we are unclothed. Also watches or jewellery like bracelets or necklaces are best left off.
What if I have a medical condition?
Always inform the teacher when you have a medical condition that necessitates extra prudence, or when you are injured or are recovering from an injury. For instance, with conditions such as a high blood pressure or glaucoma you better avoid the inverted postures.
We do our best to guarantee your safety. But please consider that you yourself are responsible for your well being and that you are the guardian of your own physical limits.
A private yoga consultation by appointment is available to determine your personal profile. This consultation can help you, among other things, to make the right choices for your physical yoga practice. Or it will give you advice if your body has specific concerns.
Read more about yoga therapy and guidance
Yogamats of superior quality are available in the studio.
However you can bring your own mat if you prefer. If ever you consider buying a yogamat,
click here to read more about purchasing a yogamat.
Can I keep using my phone during yoga class?
Handies and smart phones will be switched off at the beginning of the class, so as not to create any disturbance.