Due to the reality of the coronavirus we are replacing the normal group yoga classes in the studio by live online group classes.
Just now it is very important to support your health.
Practicing yoga strengthens you and helps you to cope with stress and worries in this new situation.
So …
Yoga Kitchen goes SKYPE !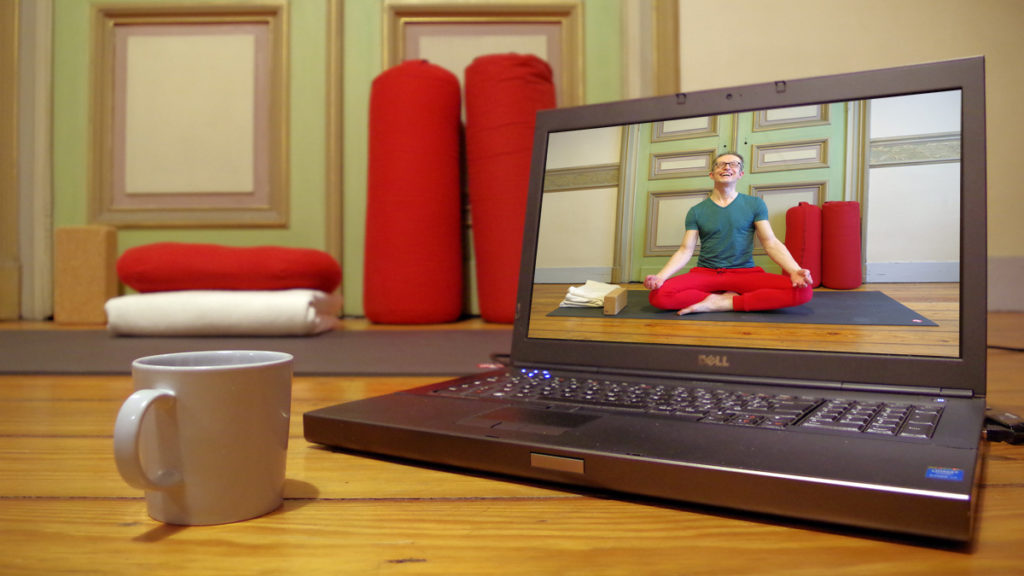 Of course, a live lesson online will never replace a real lesson in a physical yoga studio.
But it is in any case a far better alternative than watching a pre-recorded video without any contact or interaction with a yoga instructor.
Most of the participants are very enthousiastic !
This is the setup:
There is a Yoga Kitchen account on Skype where I teach the group yoga classes live online.
The lessons continue to be on the existing days and hours, check out the calendar.
Any person who is already taking lessons and cannot come to the studio, can follow the class live online via Skype without any preparation.
What you need:
A place where you can follow the class quite undisturbed.
A yoga mat, possibly a pillow and a blanket or plaid for the moment of relaxation at the end of the class.
A pc, tablet or phone with image and sound that has the application Skype installed on it and is provided with a good internet connection.
How do you sign up?
As usual, by booking your class via the site or sending a text message.
The first time please send us your Skype username, so we can easily connect
.
How does it work in practice?
From about 15 minutes before the start of the class, I'll create a group video call on Skype, and connect to all people who are enrolled.
The lesson starts at the scheduled time, goes on as usual and ends with a moment of rest or relaxation.
Anyone who wants to, can stay connected after class for a chat.
Tips
 The best tips for your online yoga experience at home
To the classes:
 Prana Yoga Flow on Monday and Wednesday