Most of our group classes are now continuing as HYBRIDE classes.
So you can either come to the venue, or follow the classes LIVE ONLINE.
Just now it is very important to support your health.
Practicing yoga strengthens you and helps you to cope with stress and worries.
So …
Attend your class at Yoga Kitchen via ZOOM !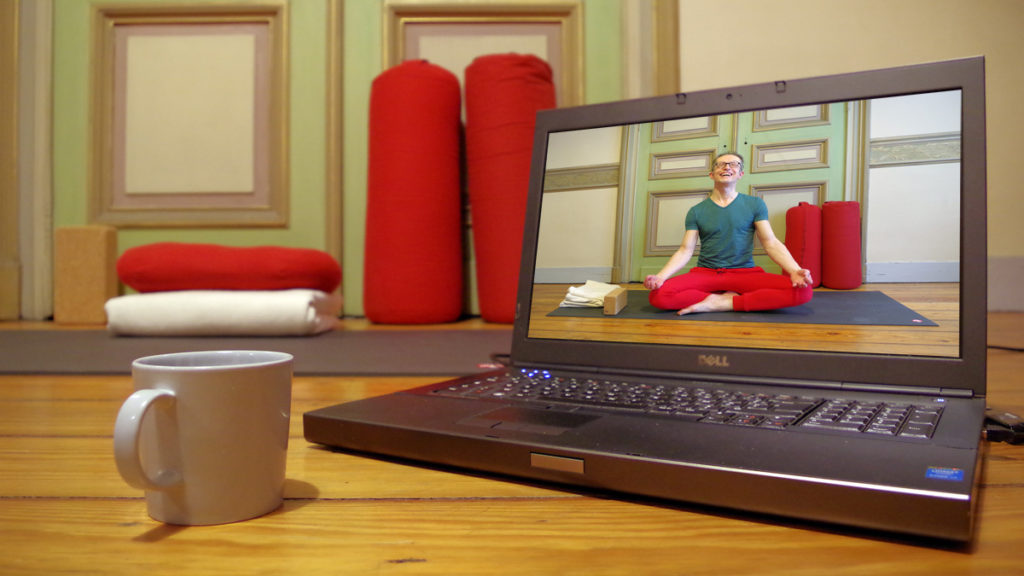 Of course, a live lesson online will never replace a real lesson in a physical yoga studio.
But it is in any case a far better alternative than watching a pre-recorded video without any contact or interaction with a yoga instructor.
Most of the participants are very enthousiastic !
This is the concept:
I am teaching the classes in a way that allows you to attend them live online thanks to the ZOOM application.
The classes take place at the usual days and hours, according to the Calendar.
Anyone already enrolled in the classes who cannot make it to the studio can attend live via ZOOM, without any preparation.
What you need:
A place where you can follow the class quite undisturbed.
A yoga mat, possibly a pillow and a blanket or plaid for the moment of relaxation at the end of the class.
How do you sign up?
As usual, by booking your class via the site or send us a text message if you have already attended classes.
How does it work in practice?
From about 15 minutes before the start of the class, I grant access to the class.
Click the ZOOM-link on your device.
You will find yourself in a sort of virtual waiting room
The class starts at the scheduled time, goes on as usual and ends with a moment of rest or relaxation.
If ZOOM is not yet installed on your pc/tablet computer/mobile phone, you'll have to to this the first time you access. It is a very simple, step by step process.
Check out for more tips
 The best tips for your online yoga experience at home
To the classes:
 Prana Yoga Flow on Monday and Wednesday