For the month of September, I chose the Revolved Praying Hero posture. In the more fitness oriented postural yoga, this one is also known as Revolved Lunge. The technical or Sanskrit name of this posture is Parivritta Namaskara Virasana. I deliberately do not use sanskrit terminology during yoga classes, because that is like giving a Catholic mass in Latin. And that is no longer of this time.
Sanskrit is good for the technical classification of postures or if you are studying or retraining in the Indian tradition.
Why does this posture fit so well with the month of September?
This posture fits well in this transitional season between summer and autumn. It is a yoga posture with a strong "grounding" character. Still, it is also "fiery". It is a posture in which the earth element comes to the fore and the fire energy of summer can still be felt. It invites you to stand firm and stay in balance. That is exactly what we have to do now.
In the transitional periods between the four seasons, we are invited to make adjustments to our daily habits in order to keep our health in balance through the change of seasons.
This posture can be a good part of a sun salutation sequence.
Yoga influences and supports our well-being on all possible levels: physical, energetic, emotional, mental, spiritual.
See here how this posture affects all these levels:
Physical benefits
.
Strengthening of the back, arms, ankles, legs, glutes
Stabilizing and strengthening of the hip joints
Opening and widening of the chest area
Building and maintaining strength in the abdominal area
Improving the mobility of the shoulders, shoulder blades and upper back
Energetic effects
Activating and warming
Stretching the kidney and liver meridians in the straightened rear leg, and of the gall bladder meridian in the side of the body
Grounding of the feet and legs
Stability and firmness in the lower chakras, space and release in the upper chakras
Emotional well-being
Intensity
Balance
Staying calm in your own centre, even if conditions are challenging
Stability
Opening of the heart from a firm and balanced foundation
Mental attitude
The ability to take several actions at once while staying focused
Concentrated, clear and alert thinking
Maintaining the balance between opposites
Spiritual growth
A firm connection with the earth as a basis for development and liberation
Would you like to book one of our classes?
Have a look at our offer in yoga classes and book using the links here below:
Prana Yoga Flow
A full description of the basic postures of Prana Yoga Flow can be found in the book: "Prana Yoga Flow – Activate your life force, open your heart and live freely", by Alberto Paganini. (Available in both dutch and english).
Alberto Paganini was one of my very first yoga teachers. You can find his website (in Dutch) here.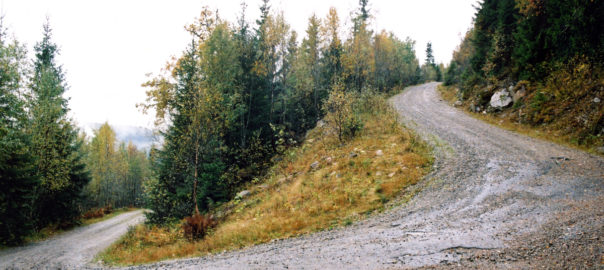 You may be wondering what that picture of a somewhat neglected, winding road, half gravel, half earth, through a forest, has to do with sitting still.
Well, life sometimes makes strange twists and turns.
I ended up in the middle of Norway in 2009 after a peculiar coincidence. At the invitation of an organic farmer who had emigrated from Belgium, I stayed and worked there for a week. In the afternoons I left for long walks in the rather wild forest landscape.
Beyond the border
This was also the case on that day in October. The season was on the border of autumn and winter, with the occasional wet snow shower. The road in the picture finally took me past the border of civilisation, somewhere on a high plateau.
There, sitting on a boulder amongst the vegetation tending to all possible shades and hues of colour, suddenly a silence fell.
But a silence like I had never experienced before. I was eating a sandwich I had brought with me and was awakened … by the sound of my grinding jaws. I had never heard that before. I was perplexed and stopped eating.
Then it dawned on me that there was nothing, absolutely nothing to be heard there.
It was the first time in that moment that I caught a glimpse of absolute silence.
Perhaps life would have led me there, in the run-up to the discovery, more than 10 years later, that I am actually hyper-sensitive to sound from an early age. My brain can only select between the many separate sound signals in a "soundscape" with the greatest difficulty and at the cost of a lot of energy.
Meditation
Yoga is a complete system conceived to prepare oneself for meditation.
Meditation has to do with crossing borders as well as confronting silence.
There are countless meditation traditions. All of them offer methods to "silence the mind". To bring consciousness beyond the noise.
Because apart from the fact that our contemporary world with all its traffic, machines and other incessant human activity, must seem like a deafening hell for our ancestors until about two centuries ago, there is another sound that never seems to stop.
And that is the incessant "chat" of the thoughts that pass through our brain.
The current that controls us
Those thoughts make up for an automatic, endless flow. A mess, in which interesting ideas, ingenious insights or whisper-smooth intuitions drown in an excess of automatic, coarser chatter. The latter consists largely of fantasies about the past or the present. Most of these we are not even aware of.
But that flow does control us. And is responsible for our emotions and our state of mind, day in, day out.
In Indian philosophy the world was created by sound. That is a beautiful metaphor for what modern science has understood in the meantime. Because first there is vibration, or energy, and the matter of what we call the real world is no more or no less than coarse, "condensed" energy.
So you create your own world from the energetic vibration your thoughts constantly create.
All that exists in your world is the materialisation of your own thoughts. If there is chaos around you, then that is a projection of the chaos that probably exists within you and that you fuel by means of your thought stream.
Tips for a first step
Without attending a particular meditation school, you can already take a first step in meditation at home.
What do you need?
A place where you will likely not be disturbed
Use a chair or meditation cushion to sit on that allows you to relax with your back upright
A clock or meditation timer with an alarm function
How do you go about it?
Book 5 to 10 minutes at a fixed time in your day. Early in the morning or in the evening before bed are good moments
Set your clock or meditation timer
Sit with your back straight and eyes closed
Breathe in and out slowly and regularly
Stay quiet
And become aware of your own thoughts.
Observe them one by one. Every time a thought comes up, take note of it, and then let go of it. Bring your awareness back to your breathing.
Do you want more control over your daily life? Then start by listening to the sound of your inner thoughts and get to know them.
Start with five to ten minutes a day. And let it gradually become longer.
What we experience on a global scale this year 2020 can be nothing more or nothing less than a clear and compelling invitation from a higher consciousness to stop our insanely exaggerated outer activities. And to stay at home – at least for a good while – and learn to sit still with ourselves.
What does it mean to sit with a straight back?
Our backs are not straight by nature. The spine is clearly S-shaped.
Sitting with a straight back means: keep your spine in its natural, upright shape.
It means that you do not allow yourself to "sag".
How do you bring your back into its natural curvature?
Go sit on a chair or on a meditation cushion on the floor
Tilt your pelvis forward, as if you were pushing your navel to the front
Mark how your lower back becomes slightly hollow at the back
Open your chest by bringing your sternum a little forward and relax your shoulders
Finally, place your head and neck straight and balanced rignt above your shoulder girdle.
How do I know if I hold my lower back in the right position ?
Put your hand behind your back and touch the middle of your lower back
If you feel a cleft, like a little valley between your lumbar muscles, that's when you know you're good
On the other hand, if you feel the protrusions of your lumbar vertebrae sticking out, you are sagging. Adjust your posture by tilting your pelvis forward until you no longer feel the protrusions.